100. Population boom!
Africa now has the fastest-growing population in the world.
Growing at an average rate of 2.7% per year since 2000, the continent is growing more than twice as fast as South Asia (1.2%) and Latin America (0.9%).
Demographers project Africa's current population (1.4 billion) will double in less than 30 years and could reach 2.5 billion. By 2050, about one in four people on Earth will be African.
Nigeria, with an expected population of 400 million by 2050, will displace the United States as the third most populous country in the world after India and China. African countries such as Ethiopia, DR Congo, Egypt, Tanzania, Uganda, and Kenya will rank in the world's Top 20 largest populations by 2050.
As you will see in the rest of this report, a large population is a key economic asset that presents an attractive domestic market to both local and foreign companies, particularly for fast-moving consumer goods (FMCGs) such as food, beverages, clothing, toiletries, stationery, baby food, mobile phones, over-the-counter medicines, plastic goods, and other consumables.
Africa's population boom will also lead to strong growth in several industries, including real estate, transportation, healthcare, education, financial services, retail, and waste recycling.
As a result, major multinational FMCG brands, including Nestlé, Procter & Gamble, Unilever, Dangote, AB InBev, Coca-Cola, and several others are targeting Africa as an important growth market.
99. The youth bulge
Compared to Africa, the rest of the world is much older. And this could create interesting opportunities (or problems) for the African continent.
With a median age of only 18 years, Africa's population is significantly younger than Europe (42), North America (35), Oceania (33), South America (31), and Asia (31). Even by 2030, Africa's median age will just be 20 years.
Described as a "youth bulge" in Africa's population, over 75% of people on the continent are below the age of 35. Africa will represent almost half of the global youth population by 2030 and until 2100.
A large population of young people is a major advantage because it can yield a "demographic dividend".
This term describes the economic growth that is triggered by having a higher proportion of working-age people as a share of the total population.
A youth-dominated population is an asset that can accelerate economic growth due to higher levels of creativity, entrepreneurship, consumption, production, and investment.
In the long term, this could make Africa a very attractive market for providers of goods and services, employers of labour, and the investment community.
However, Africa's youth bulge could become a liability if not adequately harnessed. High levels of illiteracy and unemployment could make Africa's youth vulnerable to unrest, violence, crime, drug use, sexually-transmitted diseases, and other social ills.
98. Rapid urbanisation
Africa is now the fastest-urbanizing region in the world.
With more people migrating from rural areas, the continent's urban population is growing at an annual rate of 3.9% or 40,000 people per day; more than twice the global average of 1.6%.
According to the OECD's Africa's Urbanization Dynamics 2020 report, up to two-thirds of Africa's population growth will be absorbed by urban areas.
By 2040, an additional 950 million people (or 60% of the total population) will live in the continent's urban areas and agglomerations.
The UN estimates that Africa could have 14 "megacities"—cities with a population of at least 10 million—by 2050. These include Lagos, Cairo, Kinshasa, Dar es Salaam, Luanda, Johannesburg, Abidjan, Ouagadougou, Nairobi, Bamako, Addis Ababa, Dakar, Kano, and Ibadan.
In fact, some projections suggest that Lagos will be the largest city in the world by 2100 with a population of 88 million people.
Due to their high population density and concentrated market demand, urban areas can be important centres of trade, commerce, industry, entrepreneurship, investment, innovation, and jobs that will spur economic growth for Africa.
However, Africa's rapid urbanisation could also lead to significant challenges such as environmental pollution, traffic congestion, crime, and the proliferation of slums due to overcrowding and housing shortages.
Already, Khayelitsha in Cape Town (South Africa), Kibera in Nairobi (Kenya), and Garbage City in Cairo (Egypt) currently rank among the world's largest slums.
97. Economic growth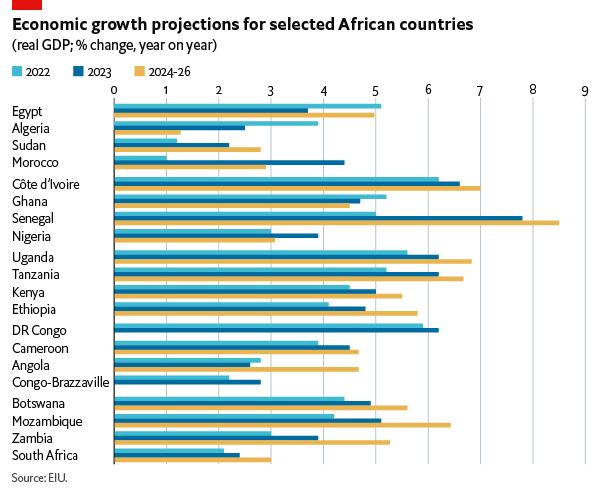 96. Jobs. Jobs. Jobs!
Africa's labour force is estimated at 440 million and is projected to grow by an additional 10-12 million new people every year for the next 20 years.
However, with only about 3.1 million new jobs created annually, Africa has a huge job deficit. This means a lot of working-age people on the continent don't have jobs.
On a continent with such a large and fast-growing working-age population, creating enough job opportunities is a paramount economic, social, and political concern.
While the International Labour Organisation (ILO) estimates average (official) unemployment in sub-Saharan Africa at 7.6%, the unemployment situation is much worse in several countries across the continent.
Bloomberg estimates the unemployment rates in countries like South Africa and Nigeria exceed 30%, and are some of the highest in the world.
Solving Africa's unemployment problem will determine if the continent gets to reap the economic benefits of its large working-age population, or suffer the consequences of a frustrated labour force that could be forced to emigrate to greener pastures, or give in to the temptations of violence, crime, and drug addiction.
95. The rise of entrepreneurship
Africa needs to create millions of more jobs. But where will all those jobs come from?
Enter entrepreneurship.
There are now more than 44 million micro, small, and medium-sized businesses (MSMEs) that make up 90% of the private sector in Africa.
According to McKinsey, they also provide up to 80% of jobs on the continent and help to drive the continent's economy.
The African Development Bank (AfDB) estimates that 22% of Africa's working-age population are starting new businesses, the highest rate in the world. The entrepreneurial rate ranges from 9% in Algeria to about 40% in countries like Nigeria and Zambia.
Based on AfDB surveys, 44% of African entrepreneurs start new businesses to exploit opportunities in the market, while 33% do so because they cannot find jobs.
Entrepreneurship in Africa, largely driven by the continent's young people, is proving to be an engine of economic growth and job creation that is now attracting significant attention from local and global investors.
In less than a decade, Africa has become home to seven unicorns (startup companies worth at least $1 billion in market value). From only about $400 million raised from 70 deals in 2014, startups in Africa had raised a total of $5.2 billion from over 600 deals in 2021 alone.
With more money flowing to startups in Africa and a fast-growing ecosystem of over 600 active tech hubs scattered across the continent's major urban centers, entrepreneurship will play a decisive role in Africa's future by solving important problems, creating job opportunities, building wealth, and maximizing Africa's economic potential.
94. The impact of AfCFTA
Africa does more trade with countries outside the continent than it does with countries within itself.
Currently, intra-African trade is estimated at around 17%, which compares poorly to intra-regional trade in Europe (69%), Asia (59%), and North America (31%).
This is why the African Continental Free Trade Area Agreement (AfCFTA) could be a game-changer for trade, commerce, and investment on the African continent.
Launched in 2018 and now signed by all 54 African countries (except Eritrea), the AfCFTA could create a single African market of 1.4 billion consumers with a total GDP of over $3 trillion, making Africa the world's largest trade area if the agreement is successfully implemented.
Unlike traditional free trade area agreements, what makes AfCFTA special is its comprehensive scope and what it could do for Africa's future.
Besides cutting tariffs on 90% of goods, the trade deal covers investment, intellectual property rights, competition policy, and even a Single African Air Transport Market (SAATM), among other initiatives.
While the process of implementing AfCFTA and integrating Africa could take more than a decade, this bold free trade agreement positions the continent to reap significant economic benefits in the long term, as other major world regions engage in trade wars and protectionist approaches.
93. The solar revolution
The International Energy Agency (IEA) estimates that sub-Saharan Africa accounts for more than 75% of the 770 million people across the world who still live without access to electricity.
According to forecasts by McKinsey, Africa's demand for electricity will quadruple between 2010 and 2040.
However, while Africa lags behind the rest of the world in conventional power grids, the continent has an abundant year-round supply of sunshine that presents a major opportunity for cheap solar power that could serve the entire African market.
Fortunately, Africa is on the cusp of a solar power revolution due to the dramatic drop in the cost of solar technology.
In the last 10 years alone, the cost of generating one megawatt of electricity from solar has declined by almost 90%; falling from $359 per MWh in 2009 to $40 by 2019.
As solar power becomes more affordable, more new businesses and investors are pouring into Africa's new solar industry.
From just $500 million in the early 2000s, the average annual investment in renewable energy in Africa has grown by 900%, reaching $5 billion in the 2010-2020 period.
Due to the huge demand for electricity on the continent, there is now a wide range of products and services targeted at households and commercial users.
These include off-grid and rooftop solar installations, utility-scale and mini-grid solar projects, solar gadgets and home appliances (fans, fridges, TVs, phone chargers, etc.), and other exciting innovations.
In fact, thanks to the solar revolution, Africa could become a net exporter of solar power within the next two decades.
As energy prices rise in Europe, due to pressures from the green energy transition and geopolitical tensions from the Russia-Ukraine war, Africa is well positioned to supply solar energy to the high-demand centers of the Eurozone.
The Morocco-to-UK power project, for example, is an £18 billion undertaking that connects 3,800km-long HVDC cables between both countries.
As a result of this project, Morocco— which has one of the largest concentrated solar power (CSP) plants in the world—will provide solar and wind energy to 7 million British homes and meet 8% of the UK's total electricity requirement by 2030.
There are several other exciting projects in North Africa that aim to connect solar power plants in Tunisia, Algeria, and Egypt to consumers in Europe.
92. The dark cloud of climate change
If there is one major challenge that poses an existential threat to realising Africa's potential, it would be climate change.
And this threat continues to hang like a dark cloud over the continent's bright future.
Climate change represents a long-term shift in global climate patterns that results in temperature increases and heat waves, prolonged droughts, extensive floods, tropical cyclones, and sea level rises that cause death, property damage, and displacement of communities.
In recent times, floods and severe drought in East Africa and the Nile region, a deadly cyclone in Mozambique, and the worst locust outbreak in the Horn of Africa in over 25 years, are just a few of the catastrophic climate-related disasters that have significantly affected millions of people and caused millions of dollars in damages in Africa.
Unfortunately, despite contributing the least greenhouse emissions (less than 4% of the global total), Africa remains the most vulnerable continent to climate change impacts.
In fact, seven of the 10 countries in the world that are most vulnerable to climate change are in Africa.
In a continent where the agricultural sector contributes roughly 20% of GDP and provides jobs for 60% of the population, expert projections show that Africa could lose up to 30% of its economy by 2050 and 64% of its GDP by 2100 due to the impacts of climate change.
But there is hope.
New technologies and conservation approaches such as solar-powered micro-irrigation, for example, are increasing farmers' incomes by five to 10 times, boosting harvest yields by up to 300% and reducing water usage by up to 90%, while at the same time offsetting carbon emissions by generating up to 250 kW of clean energy.
Also, as the global market for green and sustainability financing grows (valued at more than $1.2 trillion in 2021), Africa is favourably positioned to attract new climate adaptation and mitigation investments that could result in benefits of up to $3 billion to 16 billion annually for the continent, according to the Global Centre on Adaptation.
91. Autocracy vs. Democracy
Across the world, there is a growing tension between authoritarian tendencies (in the global East) and democratic principles (in the global West).
And this trend is playing out within Africa in a way that could significantly influence the continent's future.
According to the Brookings Institute, governance and democracy have improved considerably in Africa since 2000, with countries like Mauritius, Botswana, Cape Verde, Namibia, Seychelles, and Ghana ranking relatively high as politically stable, democratic countries.
However, while Africa has witnessed the ouster of long-serving autocrats in countries like The Gambia, Egypt, Sudan, and Zimbabwe in recent years, the continent has experienced over 40 coups and attempted coups since 2010 and still has many of the world's oldest and longest-ruling leaders.
Also, the number of African countries that are rated "not free" (in terms of civic participation, press freedoms, strong democratic institutions, and other factors) has grown from a low of fourteen in 2008 to twenty in 2021.
According to the Freedom in the World 2022 report, the economic influence and military support of increasingly authoritarian governments like China, Russia, and Turkey could play a key role in encouraging autocratic norms in Africa by providing an alternative to democracy as a source of international support and investments.
Interestingly, surveys show that most African citizens are strongly in favour of democracy, with seven in 10 Africans (69%) preferring democracy to any other kind of government, according to Afrobarometer.
Also, a majority of Africans reject authoritarian options such as military rule (75%), one-party rule (77%), and one-person rule (82%).
Going forward, if the gap between the expectations of democracy (from African citizens) and the reality of authoritarianism continues to expand in Africa, the continent could be faced with greater political tensions and upheavals that could trigger more mass actions, coups, and revolutions like the Arab Spring movement that challenged authoritarian regimes in North Africa and the Middle East.
90. The opportunity and problem of fast food
Africa's combination of a large youth population, rapid urbanisation, and a growing middle class has made the continent a fast-food hotspot and an attractive market for local and international brands.
With demanding work schedules and pressures on their time and productivity, Africa's urban dwellers are often too busy to prepare their own food and are more likely to eat outside their homes. For a growing number of people on the continent, fast food provides a level of convenience, variety, pleasure, and flexibility that justifies the cost.
Africa's fast food market, combined with the Middle East, is projected to double in just five years, growing from $30.8 billion (in 2021) to $59.1 billion by 2026.
McDonald's, the world's biggest fast food brand, now has over 380 outlets in four African countries (Egypt, Mauritius, Morocco, and South Africa). Kentucky Fried Chicken (KFC) has over 1,200 outlets across 24 African countries, and other international brands like Burger King, Subway, and Domino's Pizza continue to expand across the continent.
As a growing number of Africans embrace fast food culture, this huge commercial opportunity overlays a serious public health problem for the continent.
Due to its heavily processed nature, affordability, easy access, high energy density, and high sugar and salt content, fast food is leading to an obesity crisis in Africa that is largely responsible for rising rates of lifestyle diseases such as diabetes, cancers, hypertension, and cardiovascular conditions.
How Africa balances the opportunity and problem of fast food will depend on several factors, including consumer awareness about healthy foods, government intervention, and the competitive pressures on fast food brands to innovate and introduce healthier food options.
89. The rise of African women
Gender inequality is a major barrier for millions of women in Africa and holds back the continent's potential to make social, economic, and political progress.
On a continent where women account for more than half of the total population, women only contribute about 33 percent to the continent's GDP.
This economic gap is a major missed opportunity for Africa.
In fact, a McKinsey Global Institute report found that by advancing women's equality, Africa could add up to $316 billion or 10% to its GDP by 2025.
While countries like South Africa, Rwanda, Algeria, and Egypt have made remarkable progress in the areas of women representation, maternal mortality, and legal protections for women, other African countries like Mauritania, Mali, and Niger still have some of the lowest gender parity scores on the continent.
Fortunately, while major challenges remain, Africa's women are rising against the odds.
In corporate environments and the formal economy, Africa has the world's highest female representation in board positions and executive committees (25%), which is higher than the global average of 17%.
However, more progress needs to be made in getting women into better-paid jobs in the informal sector, and professional and technical fields.
Women in sub-Saharan Africa also have the highest rate of female entrepreneurship globally, with up to 26% of female adults engaged in some sort of entrepreneurial activity.
A 2018 study found that Africa's women entrepreneurs contributed between $250-$300 million to the continent's economic growth in 2016 alone.
According to the Mastercard Index of Women Entrepreneurs (MIWE), African countries such as Botswana, South Africa, Nigeria, and Ghana have the highest rates of women entrepreneurship on the continent.
With a growing number of local and international initiatives targeted at providing more opportunities to African women, they constitute a formidable emerging force in achieving the continent's full potential.
88. The tide of emigration from Africa
Africa's youth population is growing faster than the continent's ability to create enough jobs. This provides a strong economic incentive for many young people to emigrate to 'greener pastures'.
In addition to job opportunities and higher wages, Africa's emigration tide is also driven by insecurity, discrimination, repressive governments, and climate change impacts that cause people to explore legal migration options, or irregular routes out of the continent that often involve dangerous land and sea journeys.
However, studies show the total number of African emigrants reached 40.6 million in 2020, representing only about 3.3% of the continent's total population.
Also, African emigrants comprise only 14.5% of the global migrant population in all world regions, significantly below Asia's (41%) and Europe's (22.5%).
Still, as you will understand later in this report, emigration is a double-edged sword that creates both problems and opportunities for the African continent.
On one hand, the emigration of Africans to the United States, Canada, Europe, the Middle East, China, and other 'green pastures' creates a brain drain and loss of talent and productivity for Africa, particularly in critical fields like healthcare, education, sports, engineering, software, and information technology.
On the other hand, Africans living abroad have become a strategic economic asset and a major source of trade and remittances which are lifelines to many people on the continent.
In 2021, emigrated Africans remitted a whopping $49 billion, with Nigeria alone receiving $19.2 billion. In countries like South Sudan, Gambia, Senegal, and Lesotho, inflows from emigrants contribute at least 15% of the national GDP.
While the tide of emigration from Africa will continue to rise in the coming decades, the economic importance of emigrated Africans creates a counterweight that could yield net positive impacts for Africa— as long as the emigration tide doesn't rise to crisis levels.
87. The big battle for Africa's tax base
Some African countries have serious tax problems.
Compared to the size of their economies, they do not generate enough tax revenues to fund their budgets, and this shortfall is estimated at about $230 billion annually.
According to tax revenue data compiled by the OECD from countries around the world (including 30 African countries), the tax-to-GDP ratio in Africa stands at just 16.5%.
This is considerably lower than the OECD average of 34.3% and the Latin America and Caribbean (LAC) average of 23.1%.
However, the 16.5% average could be a misleading indicator because Africa's tax-to-GDP ratios vary quite widely across different countries.
While countries like Seychelles (32.4%), Tunisia (32.1%), and South Africa (29.1%) have some of the highest tax-to-GDP ratios, other countries like Nigeria (6.3%), Equatorial Guinea (6.3%), Chad (7.1%), and DR Congo (7.5%) have some of the lowest ratios (based on 2018 data).
A closer look at the average tax structure in Africa reveals that countries on the continent rely more on corporate taxes from formal businesses, and consumption taxes such as value-added tax (VAT), excise taxes, sales taxes, and import taxes.
On average, corporate taxes and consumption taxes alone contribute more than 70% of taxes collected in Africa.
Compared to other world regions like the OECD, Latin America, and the Caribbean, Africa is missing out on revenue opportunities from personal income taxes, social insurance taxes, and property taxes.
However, to explore these tax options, governments across the continent have a big battle on their hands.
How can governments collect personal income taxes if they haven't provided enough job opportunities?
How can governments collect social insurance taxes if public services like healthcare and schools don't work?
How can governments earn more tax revenues if the system is weak, corrupt, and lacks transparency?
86. The shift away from fossil fuels
Fossil fuels like coal, oil, and gas help to produce energy and electricity that have powered homes, factories, and modern societies for over 100 years.
Fossil fuels have also played a huge role in several African countries—such as Nigeria, Angola, Libya, Algeria, Egypt, and Mozambique—whose economies are largely dependent on income from the extraction, use, and export of oil.
However, fossil fuels have earned the ugly reputation of causing widespread environmental pollution, driving global warming to dangerous levels, and limiting the prospects of economic development.
As a result, global pressure has increased in the last two decades to transition the world away from fossil fuels.
Green and cleaner energy, such as wind and solar power, have now become cheaper than fossil fuels in some markets, and demand for these renewable options is growing fast.
Also, sales of electric vehicles (EVs) have risen rapidly. At 16.5 million units, the number of EVs on the world's roads in 2021 was triple the amount in 2018, according to the International Energy Agency (IEA).
The IEA projects that worldwide use of coal will fall by 2050 while global demand for oil is expected to start declining by the 2030s, as more people switch from petrol and diesel automobiles to electric vehicles.
Unless the affected African countries diversify their economies away from high dependence on fossil fuels, they could suffer heavy revenue and job losses when the world pivots to cleaner energy.
Fortunately, natural gas—largely considered as a low-carbon "transition" fuel that could help ease the shift from fossil fuels to renewables—is expected to create major opportunities for Africa's gas-rich nations, such as Nigeria, Algeria, Mozambique, and Senegal.
85. Repatriation of looted African art
More than half a million cultural artifacts looted from Africa during the colonial era are still held in museums and private art collections around the world, mainly in Europe and the United States.
These stolen items include the famous Benin Bronzes, a collection of several thousand intricately-designed sculptures seized in 1897 during the British raid of Benin City, in present-day Nigeria.
Repatriation, or returning stolen art and assets of cultural significance to Africa, is considered essential to heal the wounds of the past, recognise the wrongs and unsettled hurts of colonialism, and restore the dignity and culture of Africa's peoples.
For decades, custodians of looted African art have resisted demands to return the artifacts to their rightful origins in Africa.
However, following shifts in public sentiment and the impact of social movements such as "Black Lives Matter" and "Rhodes Must Fall," the efforts to reclaim these stolen symbols of African heritage are finally yielding fruit.
In the last ten years alone, countries like Germany, France, the United States, and several foreign institutions have returned dozens of artifacts to Mali, Nigeria, Senegal, Madagascar, and Benin.
While some progress is being made to repatriate African looted art, there are still considerable resistances and hurdles to overcome.
For instance, the United Kingdom and Belgium, which keep the world's largest collections of stolen African art, are yet to make firm commitments to return the cultural assets.
Interestingly, there is now a growing number of new museums being built across Africa to showcase the returned artifacts.
The iconic Museum of Black Civilizations in Senegal launched in 2018 and the sprawling Edo Museum of West African Art in Nigeria are strong indications that more looted art will be repatriated to the continent in the coming years and decades.
84. More slums and a housing crisis
Africa is in the middle of a major housing crisis that, if unresolved, could turn the continent into the slum capital of the world.
With its fast-growing population and rapid urbanisation that sees Africa's urban areas expand by 40,000 people daily, the continent faces a shortfall of at least 51 million housing units, according to Habitat for Humanity's Africa Housing Forum.
Nigeria, Africa's most populous country, bears more than 30% of the continent's total housing deficit burden with 14-16 million homes needed in the country.
South Africa has a housing shortage of 3.7 million homes, while Ghana requires 1.7 million units.
In East Africa, Kenya has an annual housing demand of 250,000 units but only 50,000 homes are available on the market each year.
The cost of filling Africa's housing deficit is huge.
A 2015 World Bank study simulated the cost of providing enough formal housing units for select African countries and found that countries like Ghana, Cameroon, Tanzania, Senegal, and others would have to spend between 100% to 400% of their GDP in the previous year.
To solve Africa's housing problem over the next two decades, countries across the continent need to combine public housing projects with private sector investments that specifically provide affordable homes and mass housing opportunities.
As more slums and uncontrolled informal settlements spread across the continent, this trend could have serious consequences for public health, quality of life, environmental pollution, and crime and security.
Over 226 million people in Africa now live in slum conditions—up from 123 million in 1990.
Currently, Khayelitsha in Cape Town (South Africa), Kibera in Nairobi (Kenya), and Garbage City in Cairo (Egypt) rank among the world's largest slums.
83. The unleashed power of the African diaspora
The African Union describes the "diaspora" as 'consisting of people of African origin living outside the continent, irrespective of their citizenship and nationality, and who are willing to contribute to the development of the continent'.
This important definition includes descendants of enslaved Africans in the Caribbean and the Americas, and Africans who emigrated from the continent since the end of the colonial era.
The World Bank estimates the size of Africa's diaspora at over 160 million people, spread across North America (39 million), Latin America (113 million), the Caribbean (13.6 million), and Europe (3.5 million).
Historically, the power and contribution of diaspora communities have helped to transform several countries such as Israel, Taiwan, China, the Philippines, Mexico, and India.
A strong diaspora can build a country's value internationally, spread its culture and soft power, lobby for national interests abroad, contribute to economic development through trade, investments, and remittances, and serve as an important bridge for the transfer of knowledge, technology, expertise, and other valuable resources.
The Indian diaspora provides an inspiring example of what the African diaspora can become.
With a population of 31.2 million spread across 146 countries, remittances from the Indian diaspora reached $100 billion in 2022, contributing about 3% of India's GDP.
Besides its economic contributions via trade, investments, and remittances, the Indian diaspora has been instrumental in projecting their home country's dominance in science and technology, and diffusing elements of Indian culture—such as yoga, Ayurveda, and Indian cuisine—into the global mainstream.
While remittances to Africa from the diaspora reached $53 billion in 2022 (about 1.6% of Africa's GDP) and is expected to continue growing, there is so much more the African diaspora can achieve with its strategic power.
There are significant opportunities for the diaspora in developing trade and investment flows in Africa, particularly in venture capital, infrastructure, and real estate projects.
For example, countries like Ethiopia, Nigeria, Kenya, and Egypt have leveraged diaspora bonds as an innovative financing strategy to raise millions of dollars for infrastructure projects.
Also, Africa-focused organisations like IFAD and the African Union have set up specialised diaspora investment funds.
82. Filling the infrastructure gap
Infrastructure is the backbone of economic development.
Therefore, for Africa to make reasonable progress, the continent needs adequate road and rail networks, sea ports, airports, and other critical infrastructure for energy, communications, and transport.
Currently, Africa faces a major infrastructure gap and lags other developing regions in key infrastructure.
Take paved roads, for example. The African continent has only about 31 kilometers of paved roads per 100 square kilometers, compared to an average of 134 kilometers in other low-income countries.
The continent also has a very low rail network density, with similar deficits in seaports and airport infrastructure.
India and China, two countries with comparable population sizes to Africa's, spend about 5.2% and 7.7% of their annual GDP on infrastructure respectively, but Africa invests only about 3.5% of its GDP (roughly $77 billion) per year.
In fact, estimates by McKinsey suggest that Africa will need to spend up to $150 billion annually by 2025 to fix its critical infrastructure gaps.
Fortunately, there is a huge investor appetite for African infrastructure. Many of these institutional investors such as foreign government agencies, insurance companies, pension funds, and sovereign wealth funds have more than $100 trillion in assets under management globally.
So far, China has been the most active source of investment in African infrastructure and provided more than $23 billion in projects across the continent between 2007 and 2020.
Going forward, however, Africa will need to balance the desire to plug its critical infrastructure gaps against the serious issues of debt burdens, sustainability, exploitation of local communities, and poor construction quality.
81. African cuisine goes mainstream!
Thanks to the influence of YouTube, social media, African immigrants, and ethnic African cuisine hotspots in major cities around the world, African cuisine is edging its way into the global mainstream and could be the next frontier for food enthusiasts and innovators around the world.
As consumers in many parts of the world explore new tastes and look to expand their palates, most menus seem too mundane and boring.
After decades of trying Thai, Indian, Italian, Chinese, French, and Greek food, more people are looking for something different.
Already, African cuisine is getting noticed by tastemakers and shooting to the top of trend lists.
In 2018, global food trend consultancy firm, The Food People, projected that food from Africa could be the next big food trend and the "last great untapped cuisine".
The Specialty Food Association's Trendspotter Panel of buyers, chefs, industry watchers, and educators, named African cuisine a trend of 2023. It noted the increase in African flavors showing up in products and spices on supermarket shelves.
Whole Foods Market—the largest supermarket chain of natural and organic foods —named West African cuisine as one of its top 10 trends for 2020.
In the coming years and decades, African foods and recipes will further permeate the global mainstream with bold flavors, nutrient-rich ingredients, spicy sauces, and plenty of healthy superfoods.
These will likely include specialties like jollof rice, grains like fonio and sorghum, gluten-free cassava flour, spice mixes like peri-peri and suya, and superfoods such as moringa and baobab.
Since Africa's culinary range is so vast and diverse, it will very likely spark significant interest and inspire several different innovations worldwide.
Notable culinary influences will come from Kenya, Ghana, Nigeria, Ethiopia, Morocco, Senegal, and South Africa.
80. The inequality problem
In our books, economic inequality ranks as the second biggest existential threat to Africa's future after climate change.
Economic or income inequality refers to the unequal distribution of wealth in a country or region. When more wealth is concentrated in the hands of a few people, the gap between the rich and poor widens.
This inequality can cause serious problems that include widespread poverty, slower economic growth, political polarization and instability, and social upheaval.
The Gini coefficient, the global standard for measuring economic inequality and income distribution in a country, shows that seven of the ten most unequal countries in the world are in sub-Saharan Africa.
In fact, with a score of 68%, South Africa appears to be the most unequal country in the world, followed by Namibia, Zambia, Sao Tome and Principe, the Central African Republic, Eswatini, and Mozambique.
With its large (and fast-growing) population of young people and high levels of poverty and unemployment, Africa's inequality problems could significantly hamper the continent's ability to reach its true potential.
To reverse inequality and reduce its effects on the continent, countries across Africa need to focus on improving social spending, diversity, and access to education, and introduce laws and policies that ensure progressive taxation and protect minimum wages for low earners.
79. A mechanized revolution in agriculture
Agriculture is a strategically important industry for Africa. It employs more than 60% of the continent's population and contributes almost a quarter of its GDP.
Still, Africa's full potential in agriculture is yet to be fully realized.
Given the size of its arable land and agricultural resources, market analysis by McKinsey suggests that Africa can produce two to three times more food, and boost global cereal and grain supplies by up to 20%.
The continent can also achieve similar increases in the production of horticulture crops and livestock.
However, one of the biggest obstacles in the way of progress for Africa's agriculture is low productivity.
Africa's agricultural productivity is significantly lower than other world regions because most of the continent's farming is done by subsistence farmers.
These farmers typically have small farmlands (less than 5 hectares), use primitive tools and farming techniques, rely mostly on human labour and rainfall, suffer low yields at harvest, and have very limited access to finance.
If Africa must feed its fast-growing population, achieve food security, and become a net exporter of food, agriculture in Africa will have to transition into a modern, commercial, and mechanized industry.
One emerging trend in this regard is the consolidation of Africa's smallholder farmers into cooperatives, outgrower schemes, and nucleus farms.
By aggregating small-scale farmers into large groups, they can boost productivity through access to quality seeds, fertilizers, financing, expert support, and farm machinery such as tractors.
Some interesting examples of this trend are the Githunguri Dairy cooperative in Kenya, which serves close to 40,000 farmers in East Africa, and Morocco's Plan Maroc Vert.
78. The global vibe for Afrobeats!
In the 1970s, the small Caribbean island nation of Jamaica launched a new music genre that gave the country an outsized influence on world music.
Reggae, with its deep Afrocentric roots, would go on to thrill the world with music legends like Bob Marley, Peter Tosh, Jimmy Cliff, Desmond Dekker, and many others.
Almost half a century later, Afrobeats, a new genre of music from the African continent itself, is making a strong mark on popular culture.
Sparked by an outburst of creative music talent in West Africa (mainly from Nigeria and Ghana) and spread by passionate fans and viral videos on Tiktok, YouTube, and Instagram, Afrobeats is finally crossing over into the global mainstream after more than a decade in the fringes.
Artists from the genre, like Nigeria's Burna Boy, Tems, and WizKid, have already won Grammy awards and headlined concerts and tours in the USA and Europe.
The world's biggest pop stars are also tapping into the scene with a growing list of Afrobeats collaborations that include Beyoncé, Drake, Snoop Dogg, Ed Sheeran, Chris Brown, Justin Bieber, and others.
The world's three major music labels—Sony, Universal, and Warner—are signing Afrobeats artists, closing licensing deals, and expanding their footprint in Africa.
Major streaming platforms such as Spotify, Audiomack, Apple Music, and Boomplay are now more active in the African market.
In the coming years, Afrobeats will further penetrate the global scene and significantly influence popular music culture with world tours, more A-list collaborations, and features on billboard charts around the world.
Besides Afrobeats, Africa could introduce other exciting music genres that could seal the continent's relevance in world music for decades.
An interesting example is Amapiano, a surging genre of South African house music that has proven to be just as intoxicating as Afrobeats.
77. Imported waste
Described by Greenpeace as "poisoned gifts", millions of tonnes of fashion waste disguised as donations or second-hand clothes are imported into Africa every year.
The global trade in second-hand clothing reached $36 billion in 2021, growing by more than 1,000% since 1990 and projected to exceed $77 billion before the end of this decade.
The biggest exporters of fashion waste are the USA, China, the United Kingdom, Germany, and South Korea. In Africa, the biggest importers are Nigeria, Ghana, Kenya, and Tanzania.
Another major type of imported waste ending up in Africa is electronic waste or "e-waste", a term used to describe discarded or 'second hand' consumer electronic devices such as mobile phones, computers, refrigerators, and televisions.
E-waste is now the world's fastest-growing domestic waste stream.
Studies show that more than 5.8 million tonnes of e-waste imported from developed countries are accumulating in open dumpsites and landfills across Africa.
Available data suggest that Nigeria, Ghana, and Tanzania, with Kenya, Senegal, and Egypt are the biggest recipients of imported e-waste in Africa.
Already a key cause of extensive environmental pollution and local uncompetitiveness in some African countries, imported waste could pose a bigger public health threat, cause more damage to Africa's economies, and further pollute the continent's environments if the practice is not seriously regulated.
76. Africa's "baby mama" phenomenon
With the world's highest birth rates and a large and fast-growing youth population that is increasingly influenced by pop culture and social media trends, Africa is seeing a rising rate of single mothers, particularly in the "baby mama" category.
A "baby mama" is a colloquial tag for mothers who have one or more children for men who are not their husbands or current partner.
While there are some strong reasons for single motherhood such as rape, divorce, widowhood, personal choice, and unplanned births, the rising rate of out-of-wedlock children among young people should be a key concern for Africa.
In many parts of the continent, particularly in urban centers, young people are having sex at an earlier age, and have limited access to proper sex education, and there appears to be growing neutrality and tolerance in modern African society toward single motherhood.
Studies published by the Society for Research in Child Development show that single motherhood is often linked to reduced income, a high risk of poverty, worse maternal mental health, poor parenting practices, and a range of other disruptions, such as home and school moves and multiple family transitions.
Another study in the United States found that one in five American moms have kids who have different birth fathers. Researchers also found that up to 8% of men will father children with more than one woman by age 30.
Moreover, these men tend to have more children than men who have multiple children with the same woman. In fact, about 36% of men who had children with multiple women had four or more children.
As Africa urbanizes and technology and social media facilitate the crossover of cultural influences from other parts of the world, traditional African values and institutions such as marriage and strong family bonds could be considerably weakened.
75. The new scramble for African land
Since 2007, there has been a huge uptick in the volume of investor deals for the purchase and lease of vast tracts of cheap land in sub-Saharan Africa.
As a result of these land deals, several communities have been kicked off their lands to make way for agro-industrial plantations, forestry and carbon offset programs, mining operations, hydropower plants, and other large-scale and land-hungry projects.
Media reports suggest that up to 50 million hectares of African land (roughly the entire landmass of Spain) are currently owned or leased by foreign interests.
Data from the Land Matrix shows that Africa remains the top destination for land-based investments from across the world.
With more than 66% of land in Africa under customary tenure, most of these land grabs affect rural communities without legal protections over land ownership.
In addition to the conflicts and poverty caused by land grabs, displaced communities often lose access to important cultural assets such as sacred rivers and forest sites, medicinal plants, and ancestral grazing and farming areas.
However, foreign investments in Africa's land resources are not an entirely negative trend.
These deals can be sustainably structured for mutual benefit to respect local communities, favour job creation, support economic growth, preserve the natural environment, and still deliver good returns for investors.
As the global demand for food, biofuels and wood grows, and the rest of the world runs out of sufficient arable land, Africa will need to balance the needs of its own people with its desire to accommodate the rest of the world.
74. Foreign aid and FDI: Charity vs. Investment
There are two competing narratives about how foreign money flows into Africa.
The pitiful narrative seeks to give aid and charity that "helps" Africa overcome its problems.
The other narrative seeks opportunities in the continent and wishes to "invest" and expand trade with Africa.
While Africa still needs foreign aid in the areas of medical, military, and humanitarian assistance, most of the billions of dollars in economic and financial "aid" given to the continent has only fostered corruption, waste, dependence, poverty, debt burdens, and weak local economies.
However, in the last two decades, the alternative of foreign direct investment (FDI) into Africa has been growing in terms of the number of projects, jobs created, and total capital invested.
As a percentage of the continent's GDP, FDI reached 1.7% in 2020; the second-highest in the world after emerging Europe.
While the United States and Europe account for more than 70% of Africa's annual FDI inflows, China remains the highest single source of FDI into Africa.
Also, Russia's capital investments in Africa were the second highest after China between 2016 and 2020.
What is most interesting about the rising trend of FDI in Africa is that more money is flowing to sectors outside the traditional extractive industries—such as oil, gas, and mining—which have an ugly history of economic exploitation.
According to Ernst & Young, service sectors such as telecoms, media, technology, financial services, and business services are receiving a growing share of Africa's FDI.
It is important to note that intra-African FDI and cross-border investments are also gaining traction across Africa.
Countries like South Africa and Morocco are increasingly investing in other African countries. This emerging trend could positively change the dynamics of FDI on the continent.
73) The African genome
Since human DNA was first successfully sequenced and mapped in 2003, genomic research has exploded around the world.
Collecting and analyzing genomic DNA data has been vital for the field of medicine; it has helped, for example, in finding cures for diseases like sickle cell anaemia and beta-thalassemia—which can now be treated with CRISPR-based gene therapy.
As a result, as the most diverse continent on earth, Africa holds significant value for human genomics.
Due to the continent's central role in human evolution, Africans have an abundance of gene variations that are rare or absent in the rest of the world's populations.
Unfortunately, genomic data from Africa represents only about 2% of the world's total samples.
In genome-wide association studies (GWAS) that scan genome data for links to diseases, most of the DNA samples come from white and non-African people.
Worse still, genome research and clinical studies that target African populations receive less than 1% of the global investment total.
However, as it becomes clearer that Africa's genomic diversity could serve as a global reference and provide a deeper understanding of the links between genes and diseases, it is becoming increasingly likely that more interest and investments will flow to the continent.
With programs like the $176-million Human Heredity & Health in Africa (H3Africa) Initiative that focuses on expanding genomic research in Africa, data from the continent could play key roles in discovering new cures for other diseases, such as sickle cell anemia, that disproportionately afflict Africans.
72. The rise of remote employment
Remote work was unthinkable in many industries just a decade ago, until COVID-19, lockdowns, and social distancing changed everything.
Even after the pandemic, attitudes in favour of remote work remain strong.
Findings by the Pew Research Center in early 2022 showed that up to 60% of workers want to work from home all or most of the time. That's a 6% increase from the 2020 data.
According to surveys by Global Workplace Analytics, 36% of people would choose the option of remote work over a pay raise, and 37% would take a pay cut of 10% if they could work from home.
As a result of teleconferencing and telework technology, co-working spaces, freelancer platforms, and several other tools, remote work has advanced to the point where some businesses can thrive with completely remote teams.
In fact, it's not uncommon for businesses to follow a hybrid model that allows employees to work from home at least once or twice a week.
With the world's youngest population and a high unemployment problem, Africa could reap major benefits from the emerging global trend of remote work.
In countries like Nigeria, remote working vacancies rose steadily between 2021 and 2022. There are also growing international job opportunities for young people with digital skills.
There are strong indications that future employment for Africans will depend significantly on digital technology.
A report by the International Finance Corporation (IFC) estimates that up to 230 million jobs in sub-Saharan Africa will require digital skills by 2030, and create a $130 billion opportunity for the continent. Other estimates suggest that 75% of jobs worldwide will require advanced digital skills by 2030.
While limited access to electricity, fast internet, and digital skills still constitute obstacles in the way of remote employment for many people in Africa, ongoing innovations and activities in the areas of renewable (solar) energy, broadband access, and digital education will gradually dismantle the barriers in the coming years.
71. Africa meets the electric car
The world is in the middle of the electric car revolution.
According to the International Energy Agency (IEA), only 120,000 electric vehicles (EVs) were sold worldwide in 2012.
However, in just a decade, EV sales have grown fifty-fold. By the end of 2021, 6.6 million EVs were sold, representing nearly 10% of new car sales globally, up from just 2.5% in 2019.
The worldwide demand for electric vehicles is growing very fast and market projections suggest the global demand for EVs could exceed $1 trillion by the end of the decade.
In fact, by 2050, up to 80% of the world's new vehicle sales could be electric.
For Africa, electric vehicles present a very strong value proposition. EVs will eliminate the problem of fuel shortages, harness Africa's renewable energy potential, and help in the fight against climate change by significantly reducing vehicle emissions which account for up to 40% of total CO2 emissions in sub-Saharan Africa.
Thankfully, electric vehicles are gradually making inroads in Africa.
According to McKinsey, awareness of EVs is high among passenger-car owners in some African countries, with over 90 percent having heard of EVs in Nigeria and Kenya.
Some countries like South Africa and Kenya have small (but growing) fleets of EVs, and other countries such as Ghana, Rwanda, Mauritius, and Seychelles have removed or cut down import tariffs on electric vehicles. Egypt has an ambitious plan to manufacture $20,000 EVs on the continent.
The upcoming electric vehicle boom had already attracted several startups and investors who are setting up charging infrastructure, joint ventures, and partnerships that will serve the domestic market for EVs.
70. The African mafia goes global
Local criminal groups in Africa are morphing into international organized crime syndicates.
This emerging "African Mafia", which has spread its tentacles across the world, specializes in human trafficking, cybercrime, illegal opioids and narcotics, prostitution rings, money laundering, armed robbery, and assassinations.
Leaked correspondence analyzed by a BBC investigation shows that Africa's organized crime groups have spread their networks and cells into Europe, the Middle East, Asia, North America, and across the African continent.
These world regions, which are often divided into "zones", generate income that is repatriated to the syndicate bosses back home in Africa.
The international activities of Africa's emerging mafia networks are likely already generating billions of dollars in revenue.
In 2017, for example, Canadian authorities busted a $5-billion money laundering scheme linked to an African crime group.
In Italy, the origin of at least three international mafia organizations, the African mafia is already overwhelming local crime groups.
In 2019, Italy's ECPR Standing Committee on Organised Crime confirmed that old Italian mafia laws are being revived to tackle the threats posed by the emerging African mafia.
Also, in the last five years, the FBI, US Secret Service, and Interpol have launched several international operations to arrest members of African crime networks indicted for cybercrime and money laundering.
Africa's large and growing youth demography presents a fertile ground for recruiting members into crime groups.
While the rise of the African mafia presents new challenges for security organizations across the world, the globally-integrated financial system, growing access to the internet, and the rising emigration from Africa will likely make it difficult to contain the activities and spread of these criminal networks.
69. Africa goes to space!
More African countries are launching satellites into space.
Since the continent's first satellite was launched by South Africa in 1998, fourteen African countries have sent a total of 52 satellites into orbit, with Uganda and Zimbabwe launching their first-ever satellites in late 2022.
As of early 2023, South Africa leads the continent with twelve satellites in space, followed by Egypt (10), Algeria (6), Nigeria (6), and Morocco (3).
According to Space in Africa, the continent's space budget reached $548.6 million in 2021, with 114 new satellites currently under development by 20 African countries.
A report by the World Economic Forum estimates that data collected from space could provide up to $2 billion in annual benefits for Africa.
Africa's satellites in orbit help to address several problems that involve land use, water management, soil fertility, drought, and crop health, among other applications.
A satellite launched by Ghana, for example, helps to monitor illegal mining activities in the north of the country.
Communication satellites are also expected to play a major role in expanding access to broadband internet across the continent.
As more Africans use services like Google Maps, Zoom, and GPS-enabled apps, more satellites will need to be launched into orbit to accommodate growing consumer demand on the continent.
One major trend to watch in Africa's emerging space industry is CubeSats.
These are much smaller, less expensive but advanced satellites (also known as micro or nanosatellites) that have attracted entrepreneurs, startups, and investors to develop interesting solutions.
South Africa made history by becoming the first African country to launch its own CubeSat, TshepisoSAT, into space in 2013 and has since launched six more CubeSats.
With 200+ companies and over 19,000 people now working in Africa's fast-growing space industry, the continent's space economy was valued at $19.49 billion in 2021 and is projected to grow by 16.16% to $22.64 billion by 2026.
---
Continue reading...
If you're a member of Activator HQ, please log in to read the full guide on The Top 100 Megatrends That Are Shaping Africa Right Now (2024 Edition).
If you're not yet a member of Activator HQ, click here to join.
Become a Member of Activator HQ and get full access to the Top 100 Megatrends That Are Shaping Africa Right Now.
Become A Member
Member benefits
For a full year, here's what you get by becoming a member of Activator HQ:
Full access to the 2024 Edition of the Africa Top 100 Guide. Get unrestricted access to our curated market intelligence on the best business ideas for 2024. We actively track Africa's Top 100 most lucrative business opportunities in over 30 different industries and sectors.
Insights on funding opportunities. Looking for funds to launch or grow that business? Our members get exclusive access to fundraising insights that can boost your chances of raising the funds you need for business.
Full access to all premium articles and content on Activator HQ.
Access to the comments section. Ask questions, engage, and get valuable feedback.
Get strategic updates. Our members get timely updates on the latest strategic business trends and opportunities emerging across Africa's fast-changing markets.
Get a 50% discount on all business plans. Our members pay only half the price of any downloads from our extensive catalogue of professionally-developed business plans.
Access to our private WhatsApp group and Members' Forum. A great opportunity to learn, share, and network with entrepreneurs within and outside Africa.
Access to private group coaching sessions to critique business ideas, and get help with funding, startup, growth, and other business challenges.
Get members-only invites and deals for training, consulting, special guest appearances, and other exclusive events.
It's a no-brainer investment. Click the button below to get started.
Click here to subscribe and become a member of Activator HQ.
Comments