We have worked with over a dozen entrepreneurs to develop comprehensive and bespoke business plans that have been successfully used to launch new businesses and projects, win competitions and grants, raise money from banks and investors, and serve as roadmaps for the growth and turnaround of companies.
Our business plan service involves detailed market research and analysis, robust financial modeling, and business strategy development for competitiveness, go-to-market, marketing and sales, growth, operations, human resources, and risk management.
All of this work culminates in a highly convincing, professionally written, and visually appealing business plan document that gets you noticed and sets you apart.
💬 Client Success Stories
See examples of how our bespoke business plans have helped various clients.
Maruo Farms Limited
The Gambia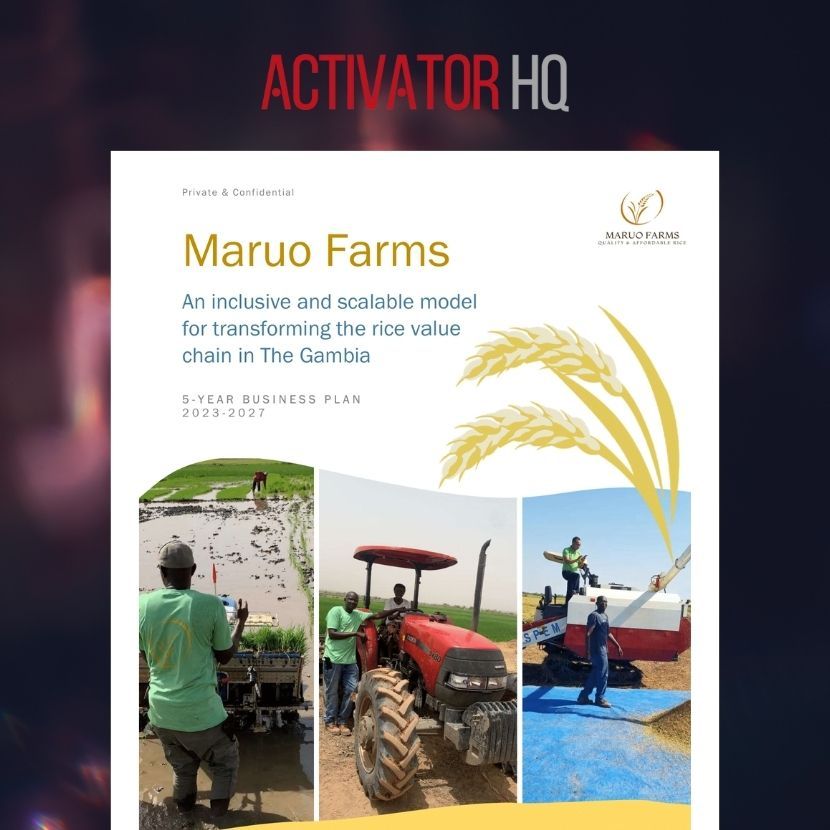 After 17 years as a successful immigrant and telecom engineer in the USA, Engr. Musa Darboe had compelling business ideas and planned to return to his native Gambia to pursue his entrepreneurial ambitions.
He had a concept for a large-scale commercial rice production business that would modernize the local rice industry, create jobs and opportunities for rural farmers, and help to reduce The Gambia's huge dependence on imported rice.
But this kind of business would be capital-intensive and require major financial and technical assistance from government agencies, international development organizations, banks, and investors.
Working closely with John-Paul Iwuoha of Smallstarter Africa (now Activator HQ), Musa got a fully customized business plan that articulated his vision and business concept, presented a coherent business strategy for the new company, and estimated the capital requirements and financial performance of the business.
With our help, Musa's business dream became Maruo Farms Limited, currently one of the biggest and fastest-growing indigenous rice producers and processors in The Gambia.
To date, the company has attracted over $1 million in grants and other funding, land development assistance, and equipment financing support from both private and public sources.
In 2023, exactly five years after we developed the startup business plan that launched Maruo Farms, we worked with Musa Darboe to develop a 5-year growth and expansion business plan that will guide the company's trajectory for the current decade.
As part of its growth strategy, the company has expanded into poultry, dairy, and vegetable products, making it an integrated agricultural production company in the Gambia.
💬
Client Feedback: "The business plan totally surprised me and went beyond my expectations. It felt great to see my vision, ideas, and plans for the business articulated so well in one beautiful document. Thank you, John-Paul." ~ Engr. Musa Darboe, CEO, Maruo Farms
---
Smart Havens Africa
Uganda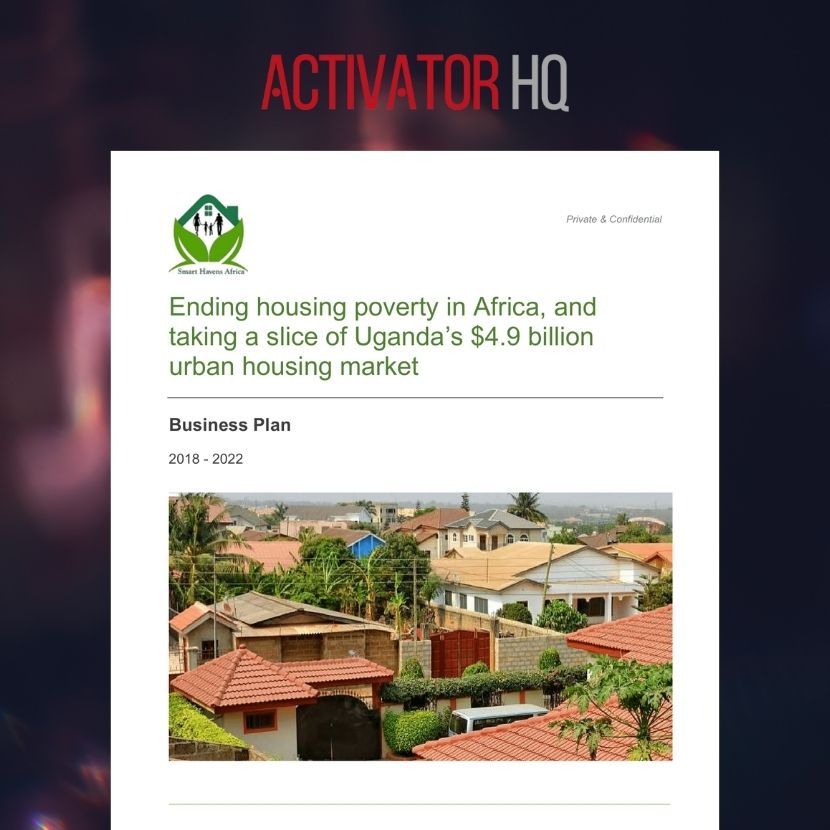 When co-founders Anne Rweyora and Will Broad engaged our business plan service, they had a brilliant but daunting business idea that could creatively solve the problem of inadequate low-cost housing in Africa, starting from their home country, Uganda.
The business plan we developed helped to refine their strategic direction and business model, identify key customer segments, develop go-to-market and customer acquisition strategies, and clarify the capital requirements and financial performance expectations of the business.
Since then, their company, Smart Havens Africa, has raised considerable funding through a combination of grants, equity, and debt investments.
Due to the company's innovative climate-smart approach to solving the affordable housing problem in Uganda, the co-founders have been featured in several local and international media, including CNN and the BBC.
They also emerged as top finalists in the prestigious Africa Prize for Engineering Innovation by the United Kingdom's Royal Academy of Engineering.
💬
Client testimonial: "Thank you John-Paul for your support. We are a true success story of your amazing works. We have successfully closed investments and became a top finalist for the Africa Prize for Engineering Innovation." ~ Anne Rweyora, Co-founder, Smart Havens Africa
---
Finex Microfinance Bank
Nigeria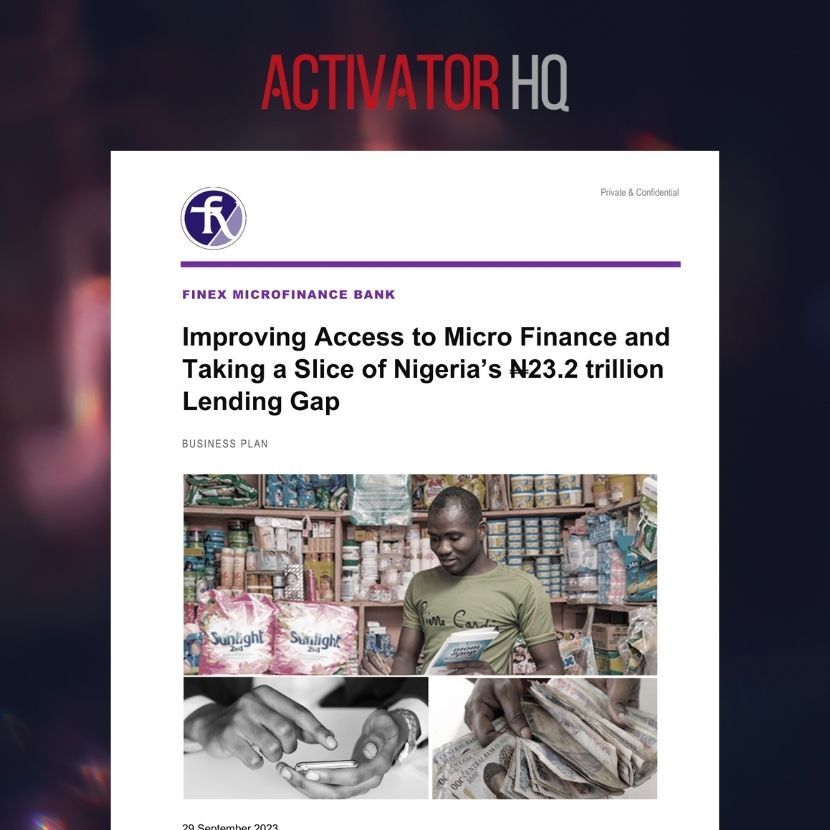 Incorporated in 2008, Finex Microfinance Bank is a licensed financial institution by the Central Bank of Nigeria that has operated in the underserved microfinance market for almost two decades.
The founder of the bank, Mr. Vincent Ibekwe, engaged our business plan service and worked closely with John-Paul Iwuoha of Smallstarter Africa (now Activator HQ) to develop a comprehensive business plan that would guide the bank on a path of growth and expansion.
The business plan we developed evaluated the market gaps and growth drivers for microfinance services in Nigeria and included a detailed marketing, sales, and growth strategy, as well as an implementation timetable and comprehensive risk management strategy.
With a <5% loan default rate and 150% in its customer base, Finex Microfinance Bank is currently pursuing its growth strategy and continues to validate its refined business model in Nigeria's tough and increasingly competitive financial services market.
💬
Client testimonial: "Awesome and professional. I will surely recommend this to others. Thank you, John-Paul." ~ Victor Ibekwe, CEO, Finex Microfinance Bank
---
The LVPS Medical Center Project
Nigeria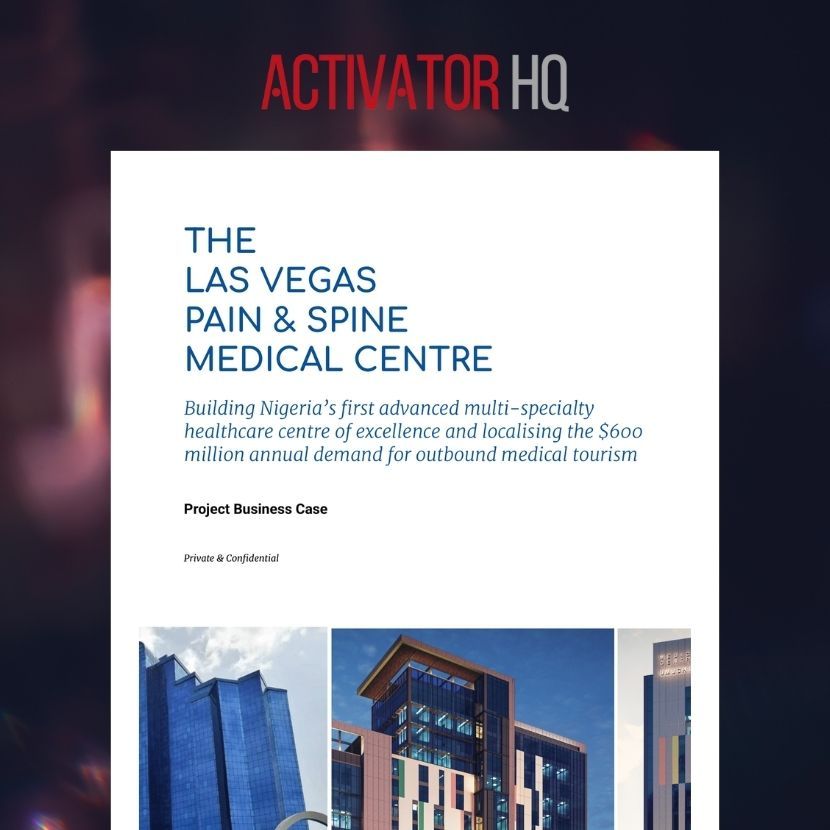 The Las Vegas Pain & Spine Medical Centre is an ambitious project to build Nigeria's first advanced multi-specialty healthcare center of excellence and that would tap into the $600-million annual demand for outbound medical tourism in the country.
The concept for the 20-acre healthcare tourism destination comprises a 15-floor hospital tower complex as its centerpiece, a primary health clinic, guest house accommodation, and several wellness, recreational, and rehabilitation facilities.
Conceived and promoted by Dr. Godwin Maduka, a highly successful US-based Nigerian physician who is a recognized expert in the field of critical care and pain management, the LVPS Medical Centre in Nigeria would model six similar facilities in the United States that provide radiology and diagnostic services, physical therapy, pain clinics, urgent care, and laboratory services.
Dr. Maduka engaged our business plan service and worked with John-Paul Iwuoha of Smallstarter Africa (now Activator HQ) to develop a project business case that creates a compelling justification for investors and partners to support the realization of the project.
Working with third-party consultants, including an architectural firm, engineers, quantity surveyors, project managers, medical equipment suppliers, and others, we developed a comprehensive business case that reflected the market potential, operational structure, financial performance, and total capital requirements for the project.
💬
Client testimonial: "Great job. Thank you for the comprehensive business case." ~ Dr. Godwin Maduka, Promoter, LVPS Medical Centre Project
🕜 Our Process
This is the 5-Step Process that guides our work:
To deliver comprehensive business plans that are tailored to your business idea, concept, and vision, we work through a 5-stage process that includes: discovery sessions, market research and analysis, business strategy development, financial modeling, and documentation and delivery.
Each stage of our process is described below:
1. Discovery Session
After your payment is received, you will have access to our client calendar to choose a suitable date and time for a discovery session (call) on Zoom, Skype, or phone with our business plan expert.
The goal of the discovery session is to get a full understanding of your business idea, concept, or vision, and identify your key expectations from the business plan.
If necessary, we will need you to complete an important questionnaire that will help us gain better visibility into your product, target market and customers, business model, capital needs, and other relevant areas of the business.
Depending on the complexity of your business, we may need to set up additional discovery sessions from time to time to clarify issues and assumptions and make sure we are aligned with your expectations as we develop your business plan.
2: Market Research & Analysis
The existence of a viable market is the key foundation and justification for a compelling business plan.
As a result, we will explore the nature and characteristics of your target market to determine the addressable market size, drivers of demand and market growth, potential customer segments, competition landscape, and the general business environment.
Depending on the number of products and services your business plans to offer, we may need to research and analyze one or several adjacent markets to estimate the true commercial potential that your business represents.
To get an objective assessment of your chances to enter and survive in the market, we also evaluate the intensity of the industry's competition by assessing the strengths and weaknesses of incumbent competitors, potential entrants, and indirect competition (substitutes and alternative products).
3: Financial Modeling
To tell a compelling story of your business in hard financial numbers that will be convincing to potential investors and financiers, we will develop a robust financial model that reflects both the unit and scale economics of your business.
Accurate financial projections are vital for any business plan. We will apply our expertise to create detailed, data-driven projections that provide you and potential investors with a clear picture of your business's financial health and growth potential.
In addition to the standard financial statements of income (profit and loss), cash flows, and financial position (balance sheet), we will present a performance analysis that shows key indicators of profitability, liquidity, efficiency, and return on investment.
We will also develop a justification for the capital requirements of your business by breaking down the use of funds into the key expenditure categories that are required to execute the business plan.
4: Business Strategy Development
The success of a business depends on the strength of its strategy and the quality of execution of its strategy.
This is why we give a lot of attention to developing a coherent strategy that shows how your business will successfully capture value from the market opportunity.
With your input, we will develop a business model and competition strategy that shows how your business will differentiate itself from other competitors and guarantee its survival in the market. We also develop a marketing and sales strategy that covers everything from pricing, promotion, customer acquisition, and distribution.
We will also develop an operations strategy that shows the inner workings of the business and reflects how the company will deploy resources to achieve its goals. This will include a human resource strategy, implementation (execution) schedule, and a comprehensive risk management strategy that identifies potential risks and recommended mitigations.
In summary, we will collaborate closely with you to design a customized strategic roadmap that outlines clear and achievable objectives, growth strategies, and actionable steps to drive your business toward success.
5: Documentation & Delivery
Using professional business language and writing techniques, we articulate all aspects of the market research and analysis, business strategy, and financial model into a comprehensive business plan document that draws in and engages the reader with a compelling cover page and executive summary.
Our business plan documents are easy to read, visually appealing, and designed to raise your credibility and perception in the eyes of your target audience.
Importantly, all our business plan documents are marked "Private and Confidential" and cannot be used or distributed without your approval.
As part of the delivery stage, we will send you a first-release draft of the business plan for your review and approval. Once your expectations are met, we shall release the final version of the business plan document in both editable MS Word and read-only PDF files.
📑 Get Started
Complete the form below and let's start working on your bespoke business plan.
Use the form below to tell us a bit about your business idea, concept, or vision so we can evaluate how much work needs to be done.
If you're a good fit for us, we will send you an invitation and quote to work with us within the next 24 hours.
Note: Our bespoke business plan service fees start at $10,000 (or your local currency equivalent). The actual quote will depend on the depth and complexity of your business plan requirements.